Complete Package
Cigarette case can accommodated a box of cigarettes completely, it's not need to put cigarettes one by one like others, it is very comfortable in use.

Durable Cigarette Case
Cigarette case made with zinc alloy, which is strong and light, resistant to scratching and water, to protect your cigarettes always like new.
Pocket Size
Portable size that you can put it in pocket, it is easy to carry
USB Charge, The function is diverse.
This cigarette case comes with a lighter function, you can make a fire in camping or in case of emergency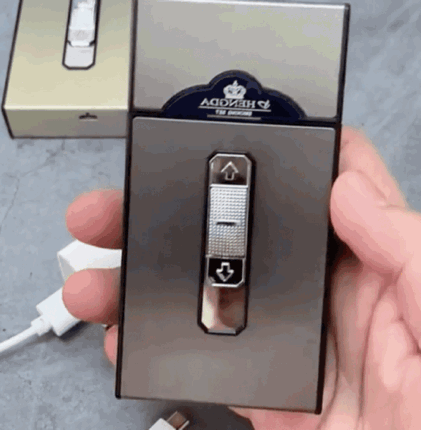 Durable, Creative design and waterproof
Compression and moisture resistance
USB Charge, The function is diverse.
Sealed, moisture-proof and sweat-proof.
Surface drawing process, fashion and comfort, leave no fingerprints.
Capacity: 20pcs   
Size:
Suitable for Men's Cigarettes