Why Not Consider giving this fun pen set as a gift? For now, these flair pens are popular gifts for kids or adults who like to express imagination.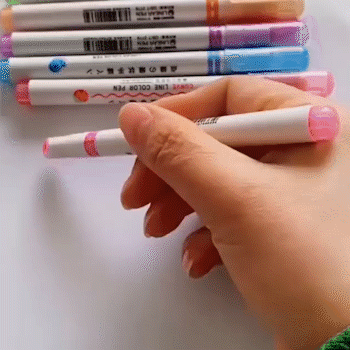 Premium material makes our pens glide more smoothly than others. You will like the way you can mark and draw precisely in the tiny details of your notes and journals.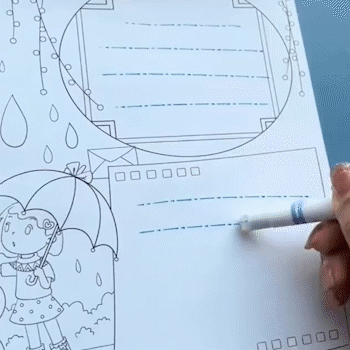 Features
💗💗【Born to Accomplish Curve Lines】: Having trouble with drawing wavy lines using normal colored pens? Try this specially made roller marker - able to create various elegant mark lines with one single pull, none of the trouble, all of the fun.
💗💗【One Pen, Two Tips】: Dual tip marker pen design, roller end for drawing mark lines. Combine them you'll get a great tool for your study & artwork.
💗💗
【Quick-drying pen and ink design】:
Our double-headed marker pens are all quick-drying ink, which dries quickly and writes clearly and smoothly. The other headband pattern is also very easy to use. You only need to place the pen under the text you need to mark and slide it gently. The operation is convenient and simple, and the ink is also quick-drying, while 100% safe for the human body.
💗💗
【Well Packaged】

:
Our pens for note-taking come in a steady plastic storage case with a fold-over snap closure which can be easily placed anywhere. Also can be
a great gift for Birthdays, Easter, Children's Day, Back to school, etc.
💗💗
【Wide applicable occasions】

:
You can use the fine points of the journal pens to write
diaries, letters, cards, make notes, scrapbooks, and so on
, while the other distinctive tips are nice for underlining some important parts and drawing some beautiful patterns, practical and necessary both in study and daily life.
Package Includes
Colored Pens

1 (Random)

Set A 3pcs [love + slash + curve]

Set B 3pcs

[Flower pattern + dashed line + dotted line]

Set A + B 6pcs

(1 x Point Line Linear Color Pen,1 x Love Line Color Pen,1 x Slash Line Color Pen,1 x Dotted Line Color Pen,1 x Flower Line Color Pen,1 x Curve Line Color Pen)