Diversified functional design, super convenient to use, can experience the happiness of one button switching, meet the needs of many aspects of life.
Slicing, Cutting, Mashing, Grinding, Etc.

Why choose our latest upgrade mandoline slicer? Our Food Cutter designed to reduce the time you spend preparing food and easy clean up. You can deal the vegetables and fruits elegantly and keep your kitchen mess-free.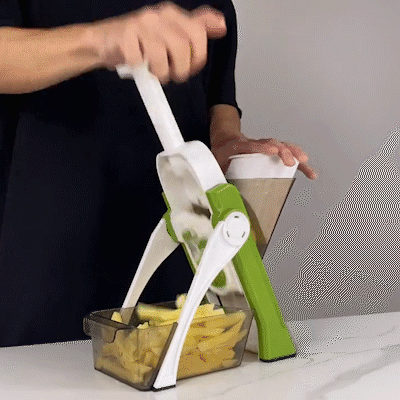 MAIN FEATURES
[Safer] The unique design prevents your hands from ever going near the built-in blades, making this tool the safest option for an expert slice. 
[Multifunctional] The blades allow flexibility to easily cut, slice, shred, chop fruits and vegetables in shapes and sizes. Such as a potato, you can make it into wavy or normal slices, strips or mash it easily.
[Saving Time And Effort] Ultra-sharp stainless steel blade can help you shorten prep time comparing with traditional blades slicing. This tool is easy to chop or slice veggies and fruits.
[Easy Clean] Compact design folds down for easy storage, while the included brush eliminates buildup on the blades and food catch container keeps countertops clean.
[High Quality] Mainly made of ABS material, does not contain BPA, non-toxic and tasteless, easy to clean. Does not produce harmful substances, you can rest assured to use.
[Wide Application] The multifunctional vegetable tool is designed to chop all kinds of food, such as onion, potato, mushroom, cucumber, carrot, tomato, ginger, garlic, cheese, etc.