Owl Key Holder - Spooky and Cute!
Introducing the Owl Key Holder  the cutest, spookiest key holder for Halloween! Embrace the spirit of Halloween daily with our Owl Key Holder – where function meets enchantment. Meticulously crafted, this holder's eyes mysteriously open when a key is near, adding a bewitching touch to your routine. Durable and delightful, it transforms organization into a spellbinding experience, perfect for the season. Let the owl guard your keys and infuse your space with a touch of Halloween magic, captivating all who cross its path.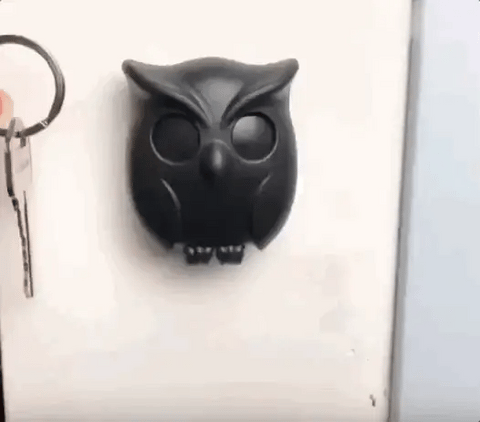 Make Any House Feel Like Halloween!
As the owl's eyes open when keys draw near, a sense of mystery and magic fills the air, evoking the spirit of Halloween. Whether it's perched by your entryway or adorning your walls, this key holder effortlessly transforms any space into a haven of spook-tacular charm, making every day feel like Halloween.
Novelty & Cute Design
This magnetic night owl key holder will open eyes to guard your keys when keys or keyring is hanging, owl can auto close eyes when keys taken away.
Easy To Install
Wall owl key ring holders with self-adhesive stickers, easy to stick them on wall or door, no drill or screws and can bear 4.4lbs
High Quality & Durable
Owl keychain holder is made of premium Resin, sturdy and durable. Creative key holder with cute shape can be the wall decoration
SPECIFICATIONS
Material: Resin

Weight: 41g

Color: Black、White、Brown

Size: